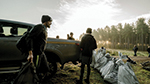 Established in 2014 by Nick Hollingworth and Liz Boivin, Tomorrow's Forests are specialists in high volume commercial reforestation, supporting industry, resource management, government, private landowners, and public institutions. "A lot of building work now requires tree planting, so we work with railway projects, housing developments, infrastructure and many others to help do this with cutting-edge technology," explains Liz.
After winning its first contract in 2014 to plant 90,000 trees, Tomorrow's Forests has grown significantly and now plants around 2 million trees each year across its numerous contracts. "After our first contract, we started gaining more, doing subcontracting in Yorkshire as well as some work in Scotland. Since then, we have established ourselves as a main contractor for the work we do and cover the whole of England, Wales, and Scotland," Liz adds.
This success is in no doubt down to Tomorrow's Forests' efficient, fast, and proactive nature. "When we start working with new clients, we often get positive feedback on how fast our team works. Our professional tree planters can plant around 3,000 trees a day each, so no project is too big or too small for us.
All of our team is trained and works hard during all daylight hours. For forestry work, we use a shift pattern of four days on, one day off. This helps to promote productivity, as they get a consistent day off that comes quicker than doing a five-day week as well as reducing the risk of injury. If we are working on construction sites, it is a five-day week, but the nature of the work is different from standard forestry."
In September 2020, a sister company was established called Creating Tomorrow's Forests, with the mission to fight climate change by creating forests across the UK, providing new habitats for wildlife, and removing CO2 from the air. Creating Tomorrow's Forests was launched to make it easy for individuals and businesses to make a positive impact on the planet and replace the UK's lost forests, using Tomorrow's Forests' large-scale forestry experience. Instead of just planting trees for carbon sequestration, Creating Tomorrow's Forests is passionate about developing diverse woodland habitats for the long-term. The project uses the Tomorrow's Forests planting expertise with scientific research to make sure the right species of trees are planted in the right areas, and additional habitat such as ponds and meadows are created alongside to maximise the biodiversity at each site.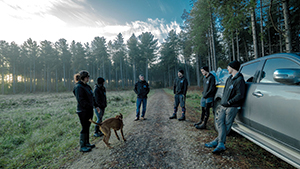 "We started acquiring land, offering businesses and individuals the chance to give back to nature and create biodiversity in places where it has been lost. We are very excited about this new project, and it is going well because businesses are prioritising sustainability and examining their environmental impact. We have started tree planting on a new wet woodland site in North Somerset.
A lot of people are getting more interested in tree planting and the benefits it has, sequestering carbon and creating biodiversity and habitats for animals. I think COVID-19 has brought things into perspective for a lot of people in this sense."
Indeed, although the pandemic halted many of Tomorrow's Forests' operations in line with the construction industry, it meant they had more time to focus on developing their new venture. "We want to work on expanding Creating Tomorrow's Forests, acquiring more sites and diversifying what we offer. Once we've completed the site in Somerset we'll be moving onto somewhere else."
And it is certainly true what Liz says – during the lockdowns across the world due to COVID-19, nature reclaimed many areas.
"Oceans were cleaner, animals were wandering the streets where they hadn't been before – it really put things into perspective for people. It's important we take care of what we have. Scientists have been saying for years that we need to protect our climate, but it's easy to forget about this in day-to-day life. Putting a break on everything we were used to during the lockdown switched many people's focus to nature, with more of us taking walks in nature and in woodland.
For this reason and because of the push for carbon capture schemes, Creating Tomorrow's Forests has been getting more and more interest from businesses and individuals.
We are looking forward to developing the company further next year. We currently plant 2 million trees each year with Tomorrow's Forests, and we want to reach the same point with our sister company."
If you would like to find out more information on either Tomorrow's Forests or Creating Tomorrow's Forests, head to the websites or get in touch directly using the contact details below.
T 01258 818003 Head Office
M 07824 673239 Nick Hollingworth (Managing Director)
M 07760 263548 Elisabeth Boivin (Managing Director)
office@tomorrowsforests.com
www.tomorrowsforests.co.uk
www.creatingtomorrowsforests.co.uk