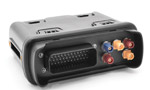 Oil Condition Monitoring world leader, Tan Delta, is pleased to announce the availability of the Oil Quality Gateway (OQTg), enabling operators to view the health status and location of entire fleets of assets at the click of a button.
The OQTg can support multiple Oil Quality Sensors (OQSx) simultaneously, and offers a range of connectivity paths (via Mobile Data, WiFi and/or Ethernet networks) to a bespoke online platform (TD-Online), for a central monitoring point. This data hub and dashboard view gives operators the ability to monitor critical assets in real-time, pre-empting any wear, damage, or potential equipment failure. These customisable alerts include, asset-specific alerts, sensor labelling, and GPS Location, notifying operators of any changes in oil condition across a plant or fleet. With the ability to remotely configure the Gateway and associated sensors, installation is quick and simple on any piece of equipment whether brand new or being installed as part of a retrofit.
Tan Delta's unique core technology enables the real-time monitoring of synthetic or mineral oil, in any industrial application including Engines, Gearboxes, Hydraulics and Transformers. Any change in quality or condition, caused by wear and/or contamination is instantly detected, accurately measured and reported.
The OQTg broadens Tan Delta's product range, underpinned by their core Full Spectrum Holistic (FSH™) technology. Oil condition monitoring provides a unique insight into the status and health of your equipment and enables reduced maintenance costs, increased efficiency, improved reliability and longer equipment operating life. With a typical investment pay back of under 6 months, leading equipment operators from shipping and locomotives, to power generation and mining are enjoying the financial benefits of deploying Tan Delta technologies.
Chris Greenwood, Managing Director said, "The Oil Quality Gateway opens new possibilities for our customers to enhance their maintenance practices and increase profits through the intelligent application of advanced oil condition monitoring."
T +44 (0)845 094 8710
info@tandeltasystems.com
www.tandeltasystems.com