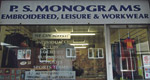 When it comes to quality embroidery and clothes printing, PS Monograms can be relied upon for an excellent service no matter the client.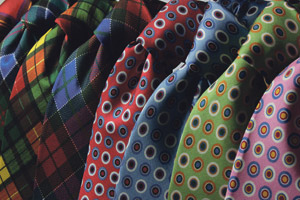 PS Monograms is run by two tailoring experts, who have a combined experience of 65 years. For over ten years now, they have been running the business together from their location in Seaton, Devon. The company operate across the nation and supply to Kent, the Midlands, Dawlish and Dorset. The company specialise in providing professionally made and expertly woven clothing and uniforms for use in a variety of different sectors.
PS Monograms can embroider everything from polos to t-shirts, hoodies with logos, names of schools, clubs and more. Not only that, but they can also personalise clothing with special lettering, logos, pictures, printed graphics and more. As PS Monograms sell to both commercial and residential clients, they have built up a strong reputation as a first rate embroidery and printing company among numerous different types of companies.
PS Monograms have a vast client base that includes schools, restaurants, cafes and much more. They are able to supply beautiful looking garments in a range of sizes, styles, colours and materials. Their school uniforms are highly popular among schools across the country, as are their polo uniforms which can be used in multiple types of businesses and settings. Their aprons are a favourite amongst café and restaurant workers, able to be emblazoned with names, logos, symbols and slogans. PS Monograms even work with yacht companies up and down England, providing them with durable coats and outer layers for a polished yet comfortable look.
The uniforms and clothes offer a number of benefits to businesses that choose to use them. It helps solidify the brand's image, makes them and their team instantly recognisable, and attaches an image to the name, boosting brand reputation. In essence, it helps get your name out there. On top of that, PS Monograms are also able to offer workwear, hi-vis vests and coats for construction sector clients. They can supply Fruit of the Loom, Guildan, Henbury and many other types of garments.
Perhaps one of the best things about PS Monograms is that they prioritise the client at every turn, ensuring they get nothing less than a perfect garment that is adequately suited to their needs. After querying and placing an order, items can be delivered within just 8 to 10 days and the company also offer an after sales support service in case of client concerns.
Better yet, they are also renowned for their cost-effective pricing, offering a quality, premium service at sensible prices. As a lot of their clients are schools and small chain, local cafes, PS Monograms are well aware that these types of clients have smaller budgets and yet require high quality, prideful uniforms just the same. As such, they offer excellent rates for all of their services.
If you are interested in kitting out your team with the very best in embroidered and printed clothes, then don't hesitate to get in contact with PS Monograms today. Alternatively, you can find out more information by visiting the website below.
T +44 (0)1297 625050
www.psmonograms.co.uk