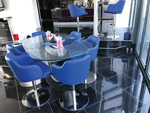 Industrial Solutions is extremely pleased to announce that Langs Quality Furniture have been selected to receive our prestigious Interior Design Excellence Award for their unrivalled range of Breakfast Bar Stools and matching chairs.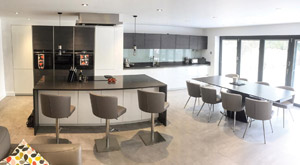 We are proud to say that this is the second year in a row that Langs has been specially selected for this award in light of their outstanding and high quality furniture. We spoke with founder Graeme Lang himself about the many products that his esteemed company has to offer.
Langs Quality Furniture is a family business located in Glasgow that was initially set up back in 1999, providing high quality breakfast bar stools plus other related furniture. Aiming mainly at the domestic market, Langs' furniture has been a hit with homeowners who are willing to spend slightly more for an upmarket product that not only transforms the way your kitchen looks, but also provides durability, style, comfort and long life.
We asked Graeme what made his stools so special, to which he expertly explained, "Our stools, which are manufactured in Italy, come in a range of sizes and shapes. Most of the stools swivel and adjust in height. Those ones can be fitted with 6 different bases in 3 finishes*. There are a few fixed height stools with both wood & steel frames which have different finishes as well. All of the stools can be covered in Premium Quality Leather in 20 colours. Also there is an Eco Leather option (High Quality Man Made Material) with 30 more colours.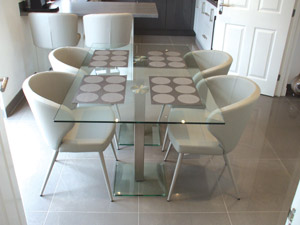 "However the most exciting development is that we can take the seat from any swivelling stool* and fit any one of 11 different chair legs/bases onto it. This is fantastic for open plan kitchen and dining areas, because clients can have matching Bar Stools & Dining Chairs in the same style & colour – a totally co-ordinated effect."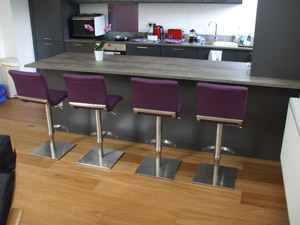 With such a wide range of choice, it is easy to see why Langs are sought after around the world, with clients stretching across the UK, Europe, America and even Malaysia.
Langs also have a new app, Seating My Way, which smartly allows users to create their own stool.) With an array of bases, legs, seats, upholstery materials and colours to choose from, users can create their own bespoke bar stool or chair that perfectly matches with their individual vision. This extremely useful and bespoke tool is a huge hit with discerning clients. The pricing module gives a budget price but please ask for a firm quote once you select your dream stool or chair.
If you are looking for some high quality, versatile and eye-catching breakfast bar stools, then be sure to get in contact with Langs Quality Furniture today. Alternatively, you can find much more information by visiting the website below.
T +44 (0)141 423 8283
M +44 (0)7802 452179
www.breakfastbarstools.co.uk
Furniture App www.seatingmyway.com/app/chairs
*There are a few exceptions