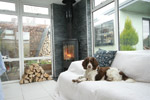 Schiedel's story in the UK begins with Rite-Vent, a producer of high quality steel products that was established in 1967 which moved to Washington in 1973. Rite-Vent was acquired by Schiedel Chimney Systems in the mid 2000's, alongside mineral plants in Dorset and Northern Ireland. Together, the different companies became Schiedel as it is known today, specialising in supplying everything from steel to ceramic to pumice system chimneys. Schiedel have a presence all over Europe with 25 manufacturing sites spread across 18 countries. Schiedel can provide energy-efficient chimney systems, stove systems, and much more, with the aim of improving home living in the most innovative, sustainable and reliable ways.
One of the latest products to come out of Schiedel is the Garden Fireplace, one of the most stunning garden fireplace systems available on the market today. The Schiedel Isokern Garden Fireplace comes in 4 different sizes and is made using natural pumice, like all Isokern products, sourced from the Hekla Volcano in Iceland. It has been hugely popular, noted both for its excellent insulation capabilities and the way it brings a unique, elegant and modern focal point to any garden. Fully load bearing, easy to build and installable either freestanding or against a wall, the Garden Fireplace is perfect for any outdoor setting.
Davinder, Digital Marketing Manager at Schiedel added, "Our new Garden Fireplace is the perfect solution for outdoor heating and living. When it comes to the indoors, our Opus ScandFire has been making waves across the UK market, and it has even won the Best Flueing and Ventilation Product Award at Hearth and Home."
Dedicated to not just providing customers with the best flue systems available, but also to leading the way the industry operates, Schiedel now offer a comprehensive range of HETAS approved training courses for those seeking how to properly and safely install, operate and maintain stove and chimney systems. Held at their state of the art training facility in Washington, the courses are led by HETAS approved trainers.
If you would like to find out more about how you can improve your heating with innovative and efficient flue systems, then don't hesitate to get in contact with Schiedel today. Alternatively, you can always find out more information by visiting the website below.
T +44 (0)191 416 1150
www.schiedel.co.uk