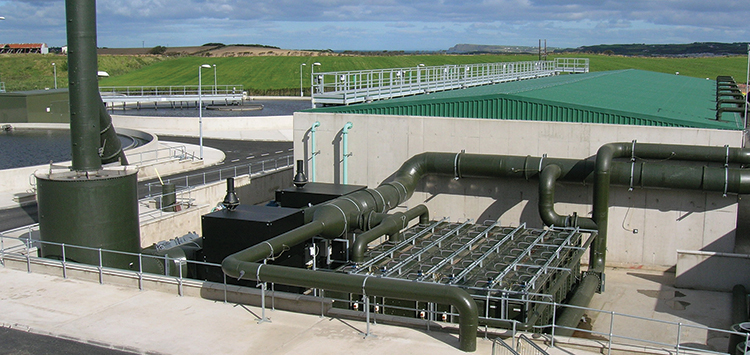 The ERG group of companies specialises in the design, supply, and maintenance of industrial air pollution control and odour control systems. The ERG group comprises three operating companies: ERG (Air Pollution Control) Ltd, ERG APC Maintenance Ltd, and ERG (Plastic Fabrication) Ltd.
We spoke to Richard Hanson, Managing Director of ERG (Air Pollution Control) Ltd who explained the group in detail. "ERG (Air Pollution Control) Ltd is staffed with highly qualified and experienced chartered chemical, mechanical, and electrical engineers who, together with design engineers, project managers and procurement professionals, provide industrial air pollution abatement systems and municipal odour control systems. We offer clients a full turnkey service from design to installation, and commissioning.
Our sister company ERG APC Maintenance Ltd provides routine servicing and maintenance for gas cleaning and odour control systems (whether sourced from ERG or supplied by others), to clients within the water industry and other sectors. Finally, ERG Plastic Fabrication Ltd provides custom fabrication of plastic and GRP vessels, tanks, and ducting. Its technicians are also highly experienced in fabrication methods with specialty plastics for use in extreme conditions."
ERG (Air Pollution Control) was founded in 1978. In 2001, the company was acquired by the current management through a buy-out. The headquarters in Horsham, West Sussex, is home to the project implementation and maintenance teams, as well as its in-house manufacturing facilities. Over the last 12 years ERG has also built up a full-service regional headquarters in Jordan and a branch office in Dubai to service its growing Middle East business. With 40+ years experience of air, process gas and flue gas treatment, ERG has an unrivalled reputation for quality and innovation and is accredited with ISO 9001, ISO 14001 and approved as a SafeContractor.
"Most clients come to ERG for systems and services to meet their environmental compliance requirements. Essentially, their processes produce air pollution, and our systems treat the pollution to comply with Local Authority or Environment Agency emissions limits and operating permits. For some other clients however, we provide systems and services which form part of the client's revenue-generating production process. For example, in the green energy sector our systems purify the biogas or syngas that they have generated, so that the client's process runs both more efficiently and with lower eventual pollution levels. In some cases our gas cleaning systems can even generate by-products which become saleable commodities for clients," stated Richard.
In recent news, Richard explained, "firstly, we are delighted that 2021-22 has been our second-best year ever, with turnover helped by buoyant Middle East sales, despite the challenges of trading during the pandemic. Secondly, in 2021 we moved to a brand-new 4-acre site just outside of Horsham. Here, we have the UK's most modern bespoke plastic and GRP manufacturing facilities and purpose-built offices that bring our engineering and project management teams together on the same site as the vessel fabrication and system manufacture," said Richard.
Moving forward, we asked Richard what the company's plans for the future entail. He answered, "we will continue our momentum, focussing specifically on industrial gas cleaning and municipal wastewater odour control. We are proud to have recently achieved one of our targets; the renewal of each of the framework contracts for odour control with Scottish Water, Southern Water and Thames Water, continuing our 15+ years framework service to these key customers.
Additionally, we will continue to develop our industrial offerings both within the UK and internationally. This is principally in sectors of renewable energy where our carefully engineered systems are used for treating syngas and green hydrogen; and automotive battery materials manufacture where we treat the ammonia, acid gases and particulate pollution arising from the manufacturing process. Building on the success of our Middle East office in recent years, particularly in Qatar's infrastructure development ahead of the World Cup, we plan to further develop our reach within the region. On top of all this, we plan to continue serving our existing customers in the chemical, pharmaceutical, and consumer healthcare manufacturing and similar industries."
T 01403 290 000
info@ergapc.co.uk
www.ergapc.co.uk