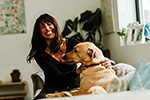 Leisure Solutions is proud to announce that Palma Palmer has received our Health and Wellbeing Excellence award. Based out of Leatherhead, Surrey, Palma Palmer is a life coach, public and motivational speaker, and confidence transformation coach. Driven by a passion for effecting positive change in people's lives and building up people's confidence so they can effect this change themselves, Palma is both well-endowed with experience and a genuine desire to help.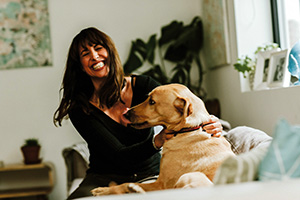 Like many, if not all of Palma's clients, she herself was subjected to a traumatic event in her life which was to have a huge impact on her. Staying true to her spirit, however, Palma did not let this trauma take over her life and rather has allowed the traumatic event to push her to help others more and more fervently than ever. At the very core of what Palma does is a genuine and intense desire to better the lives of others and make people happy. It's that simple.
I had the pleasure of speaking to Palma, who explained to me that being selfless and giving 100% to affirming positive change in people's lives is what she's always been passionate about. Indeed, Palma has been in the business of life coaching and confidence transformation coaching for over 25 years and it is a fair statement she has amassed a real knack for getting the best out of people, and if I said I wasn't motivated after our conversation, I'd be lying.
Though Palma has been honing her craft for over 25 years, it is has only been over the past two years she has taken the leap of faith, starting her own business and never looking back. Palma is proud to offer the following services to clients of all ages and backgrounds: Confidence Focus, Business and Personal Goals, Empowering and Transformation, and Customer Excellence and Upselling. The Confidence Focus course, centred on Inspiration, Motivation and Clarity is on a 1:1 basis and is comprised of five sessions. Business and Personal Goals is comprised of ten sessions and gives instant inspiration and motivation, while Empowering and Transformation and Customer Excellence and Upselling are both one day workshops.
Palma is a big believer in action, in taking action to make positive change in one's own life, and not just talking about making changes. All that Palmer asks from clients is 100% commitment. Combine that with Palma's powerful and inspirational coaching, and the client is almost guaranteed to see results.
To view Palma's range of services – online, face to face, and over the phone – visit her website or get in contact using the details below.
M 07919 947590
palmaesteem@outlook.com
www.palmapalmer.com