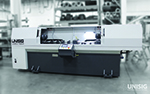 At Industrial Solutions, we take pride in showcasing the very best services provided by companies that provide a wealth of benefits for their industry. As such, in this issue we are proud to announce that we have selected UNISIG as our Deep Hole Drilling Specialists of 2022 and the recipient of our Industry Specialist Award.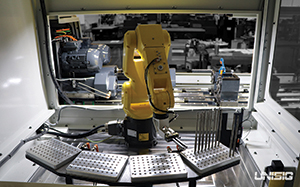 Originally founded to provide deep hole drilling machines, accessories and related services to the US market, UNISIG is one of the largest producers of deep hole drilling machines, and an industry leader in technology, innovation, support, and service. From small job shops looking to expand their capabilities, to large OEM's that need to drill millions of holes, UNISIG has the capabilities and the strong understanding of the deep hole drilling process, drilling tools and their applications, to accommodate any specific requirement.
Since its establishment, UNISIG has built up a trusted reputation amongst its broad range of customers. As the leading producer of gun drilling and deep hole drilling machines, customers of UNISIG rely on its deep hole drilling technologies for the powerful, intuitive capabilities they offer.
Serving industries such as aerospace, energy, firearms, hydraulic cylinders, medical, military and defense, molds, oil and gas, and automotive, UNISIG has a strong presence all over the world with installations in the Americas, Europe and Asia.
By offering a complete deep hole drilling solution that includes machines, tools and automation, customers will receive the upmost, highest quality service from engineers that hold extensive experience and expertise on deep hole drilling machines. Throughout the years, UNISIG's impressive drilling capabilities have propelled the company to the forefront of the industry offering a service that goes completely unrivalled amongst competitors. Setting the standards of the industry high when it comes its technological advancements, UNISIG doesn't just manufacturer deep hole drilling machines, it can also develop machines for other deep hole processes such as BTA, gun drilling, counterboring/reaming, pull boring, trepanning, skiving and roller burnishing, bottle boring, bottom forming and many more.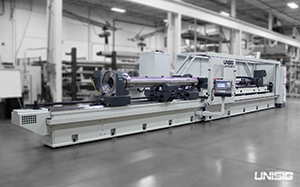 Pushing the limits of BTA drilling, with on and off-centre capabilities that offer intuitive operation, UNISIG manufactures high power BTA drilling machines and trepanning that enable BTA drilling of 25mm to 500mm up to 20 m deep.
The B-Series machines handle an impressive range of on-centre BTA drilling and are the ideal solution for a majority of BTA range diameter deep hole drilling applications. This series uses BTA and related tools to produce centreline holes on parts up to 20 m deep and are supported with training from UNISIG throughout the process.
The larger swing B-Series machines have virtually limitless capabilities, giving manufacturers the most in power and dimension requirements. As part of the deep hole drilling system, this range combines rigid deep hole drilling with durable components and powerful drives with smart controls, allowing manufacturers to get the most out of their deep hole drilling investment.
It is evident that UNISIG is at the top of its game, manufacturing some of the highest-quality machines in the deep hole drilling industry. With its team of dedicated experts all pulling together, the company is really showing how anything is possible when you work together to solve problems, not create them.
For more information, see below.
Contact
T +49 7125 9687590
info@unisig.de
www.unisig.com