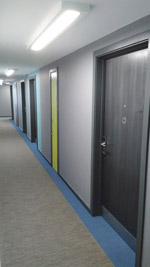 Fire Doors Ltd was first established in 2013 by Tim Askew. Based in Wales, the company have two sites which specialise in manufacturing certified and pre-hung fire doors, acoustic doors and security doors for a wide variety of clients and markets, including hospitals, schools, the military, commercial clients, the retail sector and more.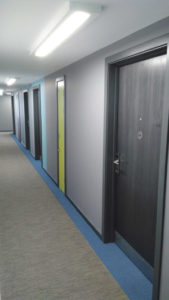 The company has seen considerable reinvention and progression as a result of Tim's and the team's hard work, and as a result, Fire Doors were able to acquire further premises, now also being based in Nottinghamshire with a total area space of 200,000sq ft.
The company's range of Fire Doors are made from natural materials such as timber and accompanied by traditional craftsmanship and computer controlled manufacturing to produce only the highest quality products.
The company are proud to say they are committed to sustainability and adhere to third party certification schemes along with quality and sustainability audits. Fire Doors Ltd provide services such as specification support which helps with designing, value engineering that helps assist customers who need cost-effective options, an expedited delivery that operates from two sites and supports with handover dates, and finally consultancy that allows technical engineers to resolve any problems or issues that arise online.
Fire Doors aim is simple, 'to be the UK's door set market leader by being the benchmark for service, quality and value' as well as 'being customer driven, employing and training the best people in the industry and continually improving (their) systems to deliver on time and to specification.'
T +44 (0)1244 551360
sales@firedoors.co.uk
www.firedoors.co.uk