Established in 1988, H.D. Services Ltd are an award-winning, family run company operating throughout the South East. We specialise in the construction and development of boreholes and soakaways and the installation and maintenance of independent sewage treatment systems and open-loop ground source heat pumps in the South East.
The past few months have seen much change for everyone, and have impacted some business hard. We are one of the fortunate ones and have much to thank our staff and clients for – not least their faith in our processes and willingness to continue working with us through these uncertain times.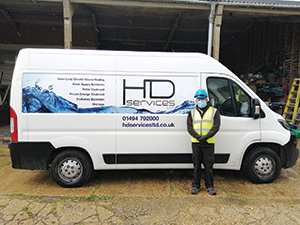 We are paying close attention to Government, PHE and WHO advice and adapting our working practices to ensure the continued best level of safety for our staff and customers.
This has required substantial organisation and adaptation by our dedicated staff – whom we thank for their hard work and continued support.
We have implemented several changes to our onsite practices to make certain we are doing as much as we can to protect our staff and clients:
Only 2 workers on any site;
Observance of the 2-meter social distancing rule;
Facemasks and gloves to be worn at all times;
Handwash and access to water is provided for each worker to enable regular handwashing.
If you have scheduled work due to be carried out, we would request that you inform us before the date of the visit if you or any member of your family have symptoms or are self-isolating. While it may not prevent us from undertaking the scheduled work, we would need to re assess the risk level and will have to re-schedule work if it cannot be undertaken without contact.
If you would like more information on the services we offer, please visit our website: www.hdservicesltd.co.uk
If you are interested in any of our services, please do not hesitate to contact us on 01494 792000 or at enquiries@thehdgroup.co.uk