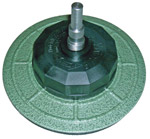 The Flexidisc Sanding system has been sold in the UK by DA & BE Murkin for almost 30 years, but it still remains one of the most versatile sanders on the market.

The Flexidisc is a system based on an exciting 5" (125mm) disc sander attachment which fits in your drill, and does not jump, skitter or scuff. This is due to a simple but highly efficient flexible shaft which eliminates vibration. It gives full control without the need for effort or expertise when presented full face to the job surface.
This system accomplishes fantastic finishes on all hard materials including wood, metal, glass, fibreglass and car body filler.
Fast rotation allows this quality process to be completed in a fraction of the time normally taken by conventional sanders. Although a generic sander in its basic form, the multi-purpose tool can convert within seconds to become a super-fine finishing sander, bench grinder, sharpener, partial angle grinder, polish applicator and polisher.
T +44 (0)1628 629892
mail@letonkinoisvarnish.uk
www.letonkinoisvarnish.uk