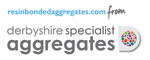 Derbyshire Specialist Aggregates was established in 1984; from humble beginnings in a garden shed, the company has grown exponentially and today prides itself on employing over 50 people with five sites across the UK.
  An industry leader in specialist aggregates, the company services the needs of the UK and international markets, working across a diverse range of project types including landscaping, resin bound and resin bonded, pebble dashing and flooring. Derbyshire Specialist Aggregates' expertise and large collection of in house samples mean that it can produce any grade and blend of material, offering a 'Match any Mix' service as well as working with its clients on bespoke solutions.
A key focus of the company is resin bound – the fastest growing surface application in the last five years. Resin bound surface applications are an excellent alternative to block paving, macadam or loose gravel, providing homeowners with an attractive, low maintenance and permeable solution which is ideal for driveways, paths, and patios in both commercial and residential environments.
Derbyshire Specialist Aggregates is the manufacturer of DALTEX, the leading brand in the resin bound industry. Being the home of this number one brand offers numerous benefits for customers, who choose to buy direct including 100% stock availability. The Company adopts an 'always in stock' philosophy by keeping thousands of tonnes of raw material and finished products ready for next day delivery.
The quality of the DALTEX UVR resin bound system has recently been recognised by the BBA (the British Board of Agrement). The System has received BBA certification which is recognised by building control, government departments, architects, specifiers and industry insurers as a mark of quality, safety and reliability.
This year, the company also completed major investment in state-of-the-art driers and dust extraction capabilities. These developments have been designed to ensure that DALTEX continues to lead the market as the cleanest and driest aggregate available.
In addition, the company recently launched DALTEX Bespoke, a range of 40 stunning resin bound colours designed to maximise kerb appeal. Each blend is made up of different aggregate sizes and textures, with colours across the spectrum, from the richest reds to stylish greys to soft and subtle golden browns.
As well as its leading quality products, Derbyshire Specialist Aggregates prides itself on its exceptional customer and technical support. As a trusted national supplier, Derbyshire Specialist Aggregates has an established distribution network with a range of nationwide flexible delivery options, as well as offering an exclusive EXCEL delivery service.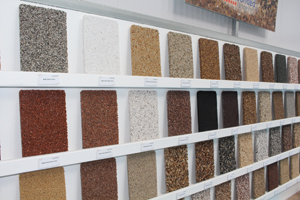 The company also offers online ordering so that orders can be placed 24/7, as well as recently opening a new DALTEX Trade Centre in Brighouse, Yorkshire, which is proving incredibly popular for local customers who prefer to collect resin bound materials.
Furthermore, the company has invested in a dedicated training facility to guide those who are new to the resin bound industry. Here, it runs a practical one day resin bound training course, showing contractors how to install the DALTEX UVR resin bound system to BBA approved standards. In addition to this, it offers experienced contractors the opportunity to become DALTEX UVR Qualified Installers, helping them to reassure their customers of their skills and standards.
If you would like to find out more information, head to the website or get in touch using the contact details below.
T 01629 636500