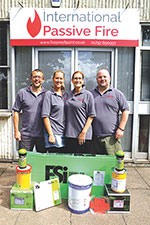 A family run business, headed by Steven Bryant, International Passive Fire Ltd was established over 35 years ago and boasts of over 60 years combined experience in the industry. Based in the picturesque town of Ivybridge, near Plymouth, Devon, they are the leading independent stockist and specifier of passive fire protection products and coatings for the UK's and Europe's biggest manufacturers, including FSI, Jotun, Sherwin Williams, Eco-Sol, Exitile, Boss Door Controls, Watco Floor Coverings and Sika to name a few.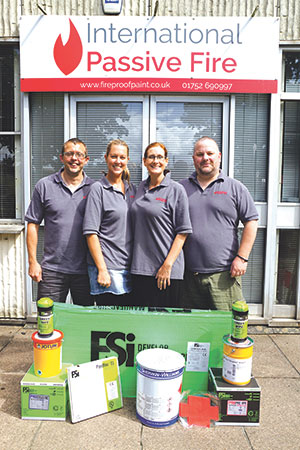 International Passive Fire Ltd are proud to be the main UK importer and distributor for the Sika Pyroplast Wood T and Wood W range of intumescent coatings for timber, offering a Euroclass B-s1 d0 fire classification on softwood 10mm thick or greater with a density of 400kg/m3 or greater, and 12mm thick or greater on composite wood with a density of 600kg/m3 or greater.
Pyroplast Wood T is a high clarity clear intumescent coating designed to offer exceptional finishes and performance to your internal timber cladding with minimum fuss on application and specification.
Pyroplast Wood W and T have been put through rigorous testing to EN 13823 and EN 11925-2, each product has a 'Classification of Reaction to Fire' report in accordance with EN 13501-1, these reports are available upon request.
Further details can be found on the brand new stand-alone website www.pyroplast.co.uk dedicated solely to the Pyroplast range, and officially launched on Monday 27th August, with data sheets and brochures available to download.
From intumescent and fire retardant coatings for steel, timber, fabrics and plastics, collars and wraps, intumescent fire and smoke door seals, sealants, batts and mastic, loft and access hatches, fire door upgrades, fire rated ironmongery, and door closers, to fire barriers and curtains, International Passive Fire Ltd are able to source, supply and most importantly specify a wide range of products to best cater for all of their Clients' needs.
With unsurpassed technical knowledge, International Passive Fire Ltd offer a free specification and estimation service for structural steel fire protection available to all of their clients, DFT and WFT reports are offered as standard using the highly acclaimed software 'SteelCalc' designed by FPSI Ltd. Site visits and independent inspection of intumescent coatings by their technical consultants are also available by appointment.
Independent project supervision and estimation services are at the forefront of the ever expanding business. Gail, their Surveying and Project Manager, is always happy to discuss project requirements and Clients' needs; please contact her for more information on these services.
Customer service is at the forefront of the business, expertly serving their loyal customer and client base ranging from small, independent companies all the way to some of the most renowned construction companies in the UK and overseas. Their friendly sales and technical teams offer an unrivalled customer service, with fast delivery and full post-sales back-up.
The Passive Fire Protection industry has become one of the most exciting and fast growth industries to be involved with. International Passive Fire Ltd strives to become the go-to company for Passive Fire Protection material and specification services.
Their knowledge base is continuously expanding on a daily basis with new EN tested and CE certified products being introduced weekly.
Please be sure to follow International Passive Fire Ltd on their Twitter: (https://twitter.com/IntPassiveFire) and Facebook (https://www.facebook.com/internationalpassivefire) pages for regular product and industry updates. Office hours are Monday to Friday 8.30-5.00, drop-in customers are always welcome. Contact: +44 (0)1752 690997; email: sales@fireproofpaint.co.uk; Website: www.fireproofpaint.co.uk; Address: Unit A2, Kingsley Close, Lee Mill Industrial Estate, Ivybridge, Devon PL21 9LL