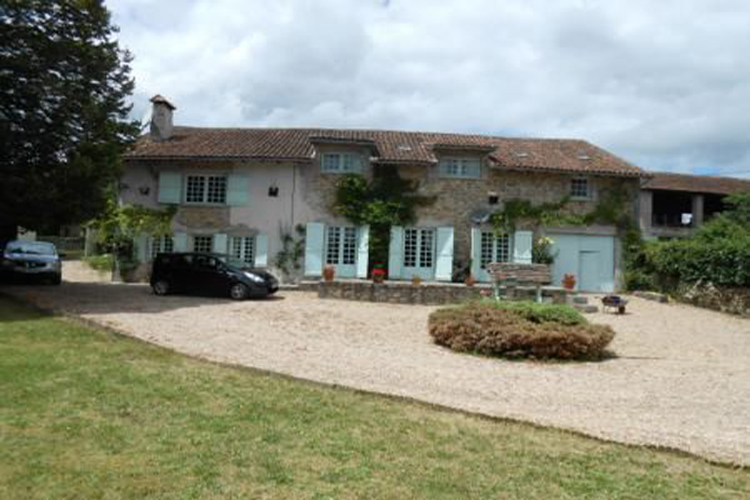 A spectacularly beautiful house set in approximately two acres of parkland with lovely views over the countryside at a reduced price at €349,000!
Full day sun – South-facing rooms.
This large centrally heated and tastefully converted farmhouse offers a combination of gracious living and every modern convenience. It features a blend of natural stone, sealed polished wooden floors in the kitchen and all the reception rooms which are south facing.
Can be sold fully furnished (furniture, cutlery…) upon negotiations.
Accommodation on the ground floor comprises:
State of the art Pedini fitted dining kitchen (12ft x 17 ft / 4m x 5m) with curved induction hob and curved corian work surfaces.
Separate laundry room (6 ft x 8 ft / 2m x 2.5m) with space for washer,dryer and freezer.
Substantial dining room of character (16 ft x 17 ft / 5m x 5m) with feature stone wall, exposed oak beams, wood burner and door into garden.
Elegant drawing room (22 ft x 22 ft / 7m x 7m) with 3 sets of French windows overlooking the grounds.
Television room "snug" (14 ft x 12 ft / 4m x 3.5m) reached by steps from the drawing room with wood burning stove.
Large study/office (10 ft x 16 ft / 3m x 5m) with French windows through to the garden.
The dining room, drawing room and study are all with south facing views of the garden.
Spacious tiled shower room and WC (8 ft x 9 ft / 2.5m x 2.5m).
Huge L shaped garage with central heating boiler, oil tank and painted floor.
It is large enough for 2 cars and a tracter mower.
Terrace outside (30 ft x 15 ft / 9m x 4.5m)
T 01702 470 470
tonymudd@hotmail.co.uk
www.french-property.com/vp/nv/ds/aquitaine-dordogne-nontron-detached-house/id/443355/fp/http:%7c%7cwww.french-property.com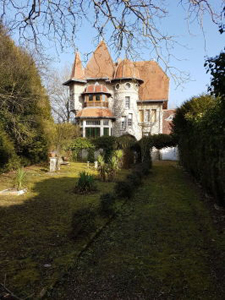 A fairytale dream come true. This is your chance to own your own beautiful chateau for the price of a 1 bedroom flat in London. Not only can this be a fantastic home but has been run as a holiday lettings business which could generate up to EUR 50,000 per annum in investment income. In the summer months the chateau has been rented for over EUR 2000 per week, at a price of €299,000.
Why choose Chateau Attigny? An easy 3 hour drive from Calais, only 2 hours from Paris CDG airport this magnificent property is located in the pretty village of Attigny, sitting on the banks of the river Aisne and on the edge of the majestic Argonne forest it is ideally placed for enjoying the beauties of the countryside, outdoor activities and discovering the rich history of the Champagne Ardenne.
This north east region of France is renowned for its natural beauty and rural pursuits so there is plenty to see and do. Take a tour of the famous Champagne houses only 45 minutes away in Reims. You'll find Tattinger, Veuve Clicquot, Mumm and Pommery to name a few. Chateau Attigny subtly combines comfort and homeliness with opulence and luxury.
Accommodating up to 10 people comfortably plus the addition of a roomy loft space which makes an exciting bedroom for children it is appropriate for couples, large family groups as well as smaller parties looking for the ultimate Chateau home.
The accommodation in the Chateau is arranged over 3 floors:
Ground Floor – Grand salon, bar area and kitchen (leads to a utility room), WC
First Floor – Mezzanine area, "Family suite" with en-suite, twin bedroom and double bedroom leading to the children's attic.
T 01702 470 470
tonymudd@hotmail.co.uk
www.french-property.com/vp/nv/ds/champagne-ardenne-ardennes-rethel-chateau/id/637600/fp/http:%7C%7Cwww.french-property.com